Vilnius Jesuit High School
One of the 198 Jesuit schools in Europe.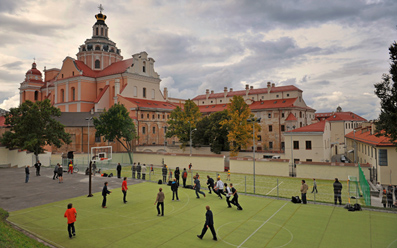 Gymnasium education is based on Roman Catholic Church teachings, principles of Jesuit education and Ignatian Pedagogy Paradigm and their practical application, complying with the Lithuanian education principles of democracy and humanism. The Jesuit educational institution adhere to the laws and Constitution of the Republic of Lithuania.
Gymnasium provides education according to adapted General Education programs of Lithuania, and educational programs, written by Vilnius Jesuit High School institution, approved by the Ministry of Education, Science and Sport. The programs provide opportunities to acquire National Education Standarts and general skills, needed to be good citizens of the modern society.
Vilnius Jesuit High School provides primary and secondary education, extracurricular activities.
Vilnius Jesuit High School – a Catholic school guided by religion and Jesuit core values, a welcoming educational institution.